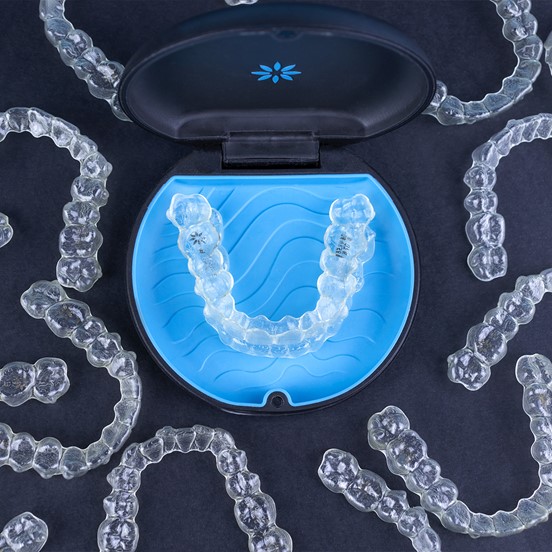 Your Platinum Elite Invisalign provider
- 27-July-2021 -
Are you looking to straighten your teeth efficiently and conveniently?  At the Coach House Dental Practice in Matlock, Derbyshire we are straightening teeth with Invisalign Clear Aligners.  We are extremely proud to be recognised as a Platinum Elite Provider of this popular teeth straightening treatment
If your teeth are not functioning correctly, or if you simply want to improve your smile, straightening your teeth may be something you have considered.  You should research not only the treatment that will work for you, but you may also seek a recommended orthodontist.  At the Coach House Dental Practice, we are passionate about teeth and achieving perfect smiles with Invisalign.
Invisalign can correct a wide range of orthodontic concerns and help you achieve the smile you have always dreamed of. The traditional route to correcting issues such as crooked teeth, gaps and crowded mouths has been with visible metal braces. Invisalign clear aligners are discreet, removeable, and comfortable – they won't make you self-conscious, or get in the way of day-to-day life.
The aligners are made from smooth, clear SmartTrack material making them comfortable, flexible, and easy to live with. They are custom made to fit snugly around your teeth and gum line making them far more pleasant to wear compared to the metal braces available.  Your teeth are moved gradually by changing your aligner regularly for the next one in the set.
Not every Invisalign provider is recognised with the Platinum Elite status.   Dr. Ishaaq Mirza and his team provide outstanding care whilst delivering amazing results.  We have an exceptional amount of experience and knowledge whilst using Invisalign to straighten teeth.
Coach House Dental Practice is entirely committed to Invisalign, we believe in the system's reliability and great results.  Along with intensive training that all Invisalign providers will go through, those with the Platinum Elite status have successfully treated a large volume of patients with a vast range of orthodontic problems.
Patient satisfaction is a huge motivator for Invisalign providers, we know just how important beautiful and healthy teeth, are and how perfecting your smile improves your confidence!
Dr. Ishaaq Mirza and everyone at the Coach House Dental Practice would like to say a huge thank you to all our patients who have trusted us with their smiles and recommended us to family and friends for Invisalign.
If you want to straighten your teeth the Invisalign way, and you are looking for a caring and knowledgeable provider then book your free assessment with us today.  If you want to know more about Invisalign then please do visit our Invisalign website for further information.
Back to blog