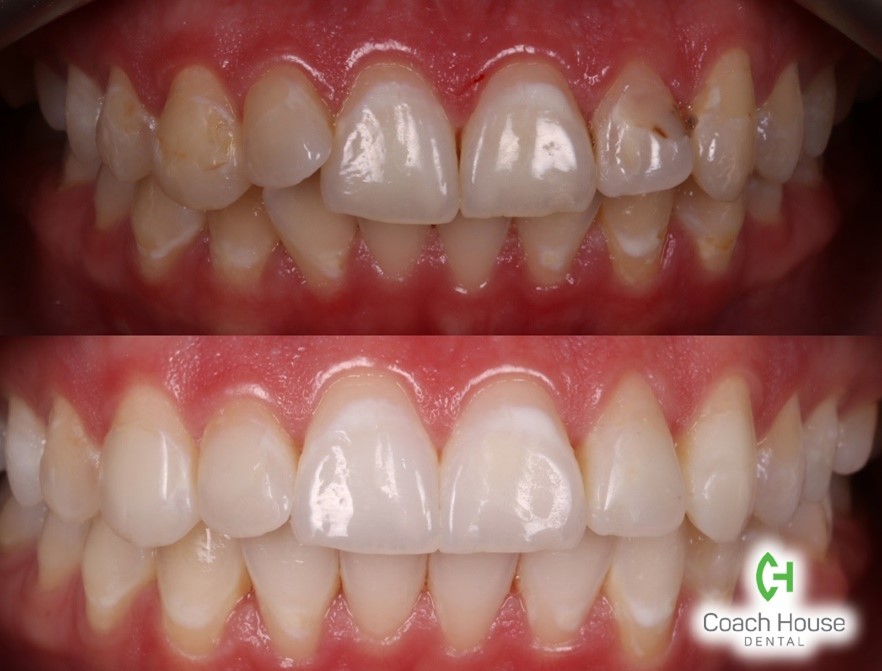 Your new smile begins with Invisalign
- 10-March-2021 -
How do you really feel about the appearance of your teeth? Would you like to love your teeth more, and have a dazzling smile that people notice? If you don't know where to start with straightening your teeth, or you are worried that treatment will involve wearing a fixed metal brace, then read on.
Coach House Dental Practice is a registered Invisalign provider and we are straightening teeth for patients in Matlock and all over Derbyshire. The Invisalign system uses virtually invisible braces which is a major advantage for those patients who want to straighten their teeth discreetly.
We've put together one patient's Invisalign journey with before and after images, so that you can see just how simple and effective this treatment is.
Having received orthodontic treatment as a child our patient's teeth had moved and needed correcting once more. The anterior teeth (the front teeth) were mis-aligned, and this was affecting our patients smile, and her confidence. To further improve the appearance of her teeth she asked about teeth whitening treatments and the replacement of existing metal fillings with white 'tooth coloured' fillings.
We started with a FREE Invisalign Smile Assessment where we created a Smile Visualisation using our state-of-the-art Itero 3D imaging scanner. This procedure is completely non-invasive, pain-free and takes just a few minutes. The virtually instant results of the scan showed how our patient's smile could look following treatment.
After deciding to go ahead with Invisalign we put together a treatment plan, starting with any necessary pre-treatment work. This included a visit to our hygienist who cleaned the teeth thoroughly, and gently removed any built-up plaque and surface stains.
As part of a complete smile makeover, we then replaced her anterior fillings with a Renamel Composite. The new composite is tooth coloured which is far more discreet and aesthetically pleasing than traditional amalgam fillings.
At the first Invisalign treatment appointment we took photographs of our patient's teeth and along with the detailed 3D scan images we submitted these to the Invisalign technicians. A full set of custom-made aligners were manufactured, in this case we were going to use Invisalign Comprehensive made up of a total of 17 sets of aligners.
The treatment length would be 5 months and 20 days and the aligners will be worn for 22 out of 24 hours a day. If needed, they can be removed, maybe for a special occasion, to play sports or a musical instrument. The beauty of Invisalign is that the treatment can fit in perfectly with your lifestyle.
Once the aligners were ready, we arranged the next appointment with our patient to begin the treatment process. The first set of aligners were fitted by the dentist, they can take some adjusting too but as they are smooth and fitted to your gumline you should find them comfortable to wear in no time at all.
We advised our patient how to change to the next set of aligners, how to care for the aligners and guidelines on removing them safely and for how long. We then arranged regular appointments during treatment to check all is progressing as planned.
Once the treatment was completed it was time for the finishing touches. We used a Boutique whitening treatment over the space of for 4 weeks (this treatment can be done at home).
Before:                                                                     After:


Our patient found the treatment convenient and comfortable and was thrilled with the results. To ensure that the teeth do not move back to their original position retention will be achieved with Vivera aligners.
If you are interested in starting your own Invisalign journey visit our Invisalign website for further information on this amazing treatment. Contact us at the Coach House Dental Practice for a free Invisalign consultation and let us get your smile in shape!
Back to blog