Random Acts of Kindness
- 10-November-2019 -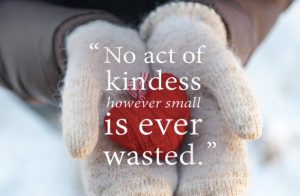 This week saw the launch of our very first fundraiser at the practice. We are raising money for Umbrella, a charity based in Derby which helps children with disabilities and their families. We are having a cake sale on the 21st of November, an all-day event.
I want to share a small story. I saw a lady last week for an emergency, she turned up early (which we appreciate) and sat speaking to Caitlin. Once she was in the surgery, she mentioned she bakes wedding cakes, and I discussed the cake sale we were holding. To my surprise, this lady turned around and pledged six cakes for the fundraiser. She also offered to take our leaflet and place it in the market notice board. I was taken aback. I didn't expect this. This simple act of kindness made my day.
Over this year I have heard one thing regularly mentioned, "The Law of Reciprocity". The law states that if someone does something nice for you, you will have a deep-rooted psychological urge to do something nice in return. As humans, we all feel that we need to respond in kind to a good deed, whether we like to or not. On this instance, it was a pleasure, and I treated the lady, dealt with her concerns and had good banter in the surgery.
Roll on a few days, and this same lady returned for some more treatment. She mentioned that she has been spreading the word to her friends and family about the event. However, they are unable to attend on the day so that they will purchase entire cakes from her, and she will donate the money to us. I initially reciprocated her kindness towards the practice, and she, in turn, returned my kindness towards her.
Since this, we have had many random acts of kindness, cake pledges and cash donations – my team and I are truly grateful.
Years ago I came across a quote "Is there any reward for goodness other than goodness?". This statement changed my outlook on anything I do. I try to base every action on good intentions with the hope that the outcome will be good. I have tried to pass this on to my children, friends and family.
If you are unable to attend the cake sale, please donate through our Just Giving page.
Back to blog