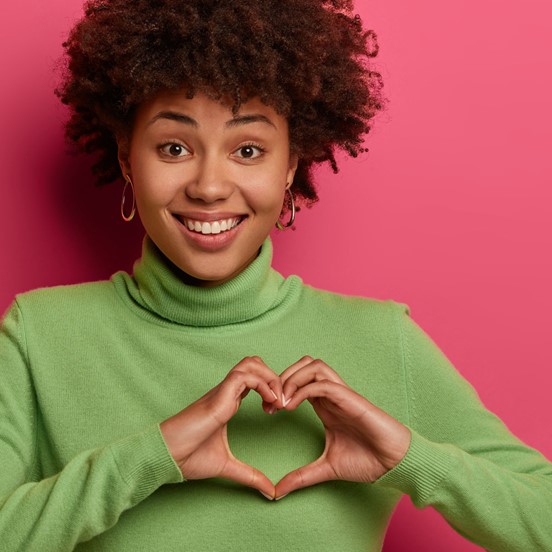 New year smile goals
- 05-January-2021 -
A new year often resets our personal goals and makes us focus on how we feel about ourselves.  Whether it's getting into better shape, improving your general health, or changing something about yourself that affects your confidence, a new year can often determine a new you!
Many people don't like their teeth and feel the need to hide them away, this of course makes smiling and talking a real issue.  There are so many ways to improve the look of your teeth and having them straightened will make a huge difference.  At Coach House Dental Practice, we offer the Invisalign teeth straightening treatment which will perfect your teeth in the simplest way.
So, just how easy is it to have your teeth straightened?   Did you know that it does not necessarily mean you will have to wear a fixed metal brace, the thought of which conjures up all sorts of awkward situations – can you play sports, can you play musical instruments and just how limited are you with your food choices?
With Invisalign Clear Aligners you have a system that allows you to do all these things whilst still providing outstanding results.  The Invisalign system works by using a set of clear aligners, made from smooth, clear SmartTrack material making them comfortable to wear, easy to put on and take off and far more flexible in every way than fixed braces.  Each aligner will be worn for a set amount of time before you move onto the next one in the sequence.
Your aligners will be custom made for you and will fit snugly around your teeth and follow your gum line, they are designed to fit as comfortably as possible, and they are incredibly discreet (almost invisible!) and lifestyle friendly!
Following years of research Invisalign offers a shorter treatment time with enhanced comfort – this straightening treatment truly focuses on patient wellbeing.  Invisalign know that patients want fantastic results and have developed the quickest, least painful method to reach that perfect smile, even for complex problems.  Invisalign aligners will just need to be worn for 22 out of 24 hours a day, therefore they can be easily removed for eating, playing sports, playing musical instruments, or simply brushing your teeth – everyday activities remain simple with Invisalign.
Make 2021 the year for you to make a big difference, Coach House Dental Practice offer a free initial consultation, we can evaluate your personal case and plan your customised Invisalign treatment journey.  Contact us today to find out more about Invisalign teeth straightening treatment.
Season's greetings from everyone at Coach House Dental Practice, here's to outstanding dental health and amazing smiles in 2021!
Back to blog