Cupcakes and appreciation for team work
- 25-November-2019 -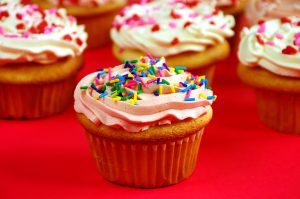 This week witnessed our inaugural charity fundraiser. Uncertain how things would plan out the team, and I chose to hold a cake sale.
Due to requests from patients, I decided to do some baking. I chose to bake some cupcakes, a dozen in total. I enjoy viewing cookery programmes, and I am an ardent listener to the "kitchen cabinet" on radio 4; my strategy for cooking is similar to A'Level chemistry.
If you combine two chemicals, you get a reaction providing you follow the steps carefully. So how hard can baking be?
At work, I have the luxury of having all the instruments, materials set out by my nurses so I can focus on what I enjoy, dentistry.
I don't know the first thing about an oven or a Kitchen Aid, fortunately for me, my sister does. A quick demo on how to use the Kitchen Aid, and how the oven works and I was ready.
My sisters are good at baking; it would have been easy for me to ask them to make these. But there is some strange joy in baking. It is incredible what you can make with a few simple ingredients – flour, butter, eggs, sugar, baking powder.
These ingredients coming together reminded me of teamwork if all these ingredients do what they are designed to do, then the result will be cupcakes. Similarly, if every member of a team does what they are employed to do the result will lead to a flourishing team and consequently, a prosperous business.
I had baked 12 cupcakes in no time. Pipping is a skill, the mixture must be right, and the nozzle must be moving while pipping. I can say the baking I can do but not the pipping.
The fundraiser was a great accomplishment we had several patients donate cakes, patients just came in to have a slice of cake and chat to the receptionist. The sense of community in Wirksworth is exceptional. My team and I couldn't have done this without our lovely patients.
Back to blog