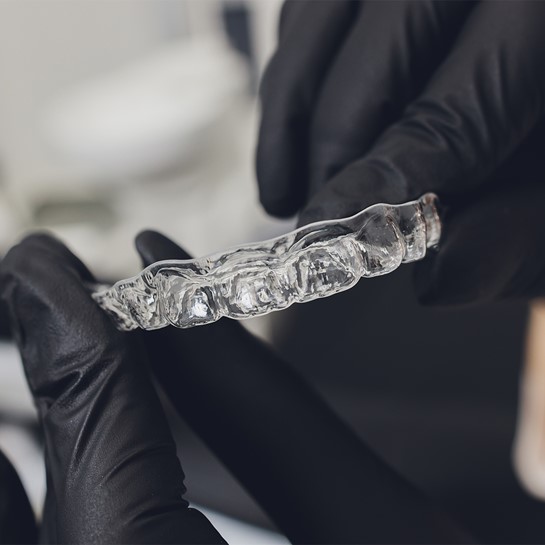 Can I straighten my teeth without braces?
- 05-May-2021 -
Yes, you absolutely can! We understand that traditional metal braces aren't for everyone, that is why Coach House Dental offer a teeth straightening option that will help you get that dream smile you've always wanted.
So, what treatments are available that avoid a metal brace? Coach House Dental is a registered provider of Invisalign Clear Aligners and we're helping people all over Derbyshire straighten their teeth simply and conveniently. Clear aligners are the perfect alternative to braces and are great for people looking for a discreet way to straighten their teeth.
Invisalign Clear Aligners are moulded to the shape of your teeth, almost like an invisible mouthguard. The aligners are made from smooth, clear SmartTrack material making them comfortable to wear, easy to put on and take off and far more flexible in every way than fixed braces. Invisalign aligners fit snugly around your teeth and follow your gum line, they are designed with your individual smile in mind and are tailored to fit as comfortably as possible.
Everyone is talking about this treatment because the clear aligners are practically invisible, but the results from treatment are amazing. If you are looking to straighten your teeth without drawing attention to yourself then Invisalign is the treatment for you.
You will be fitted for a set of custom-made aligners that move your teeth gradually, when one aligner has repositioned your teeth slightly you will change over to the next aligner in the set. Years of research now means Invisalign can offer a shorter treatment time and with its other benefits this straightening treatment truly focuses on patient wellbeing. Invisalign know that patients are looking for fantastic teeth straightening results and they have found the quickest, least painful method to reach that perfect smile, even for complex problems.
The best thing about straightening your teeth the Invisalign way? The aligners are removeable which means they can straighten your teeth but still work around day-to-day life. Whilst you do wear the aligners for 22 out of 24 hours, you can remove them for eating, playing sports, playing musical instruments, or simply brushing your teeth – everyday activities remain simple with Invisalign.
At Coach House Dental we have many happy patients who have achieved their dream smile with Invisalign. At your first consultation we will assess your problem and discuss your smile goals, we can even show you how we expect your teeth to look following treatment.
If you want to find out more, please do visit our Invisalign website for further information. You can also contact us at the Coach House Dental Practice for a free E-Smile assessment – let's create beautiful smiles together.
Back to blog